"Exit Strategy is roguish fun, uproariously funny, and a groundbreaking comedy to boot."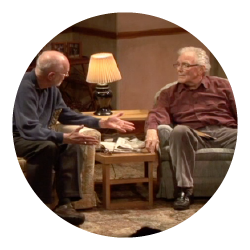 Playwrights Roy M. Close and Bill Semans address the limited options available to senior citizens, even when they're passionate, sharp and full of insight. Indeed, ageism is a prevailing American vice, hence the valuation of elders is not a prevailing virtue. That said, this play, vibrantly directed by Howard Dallin for Cricket Productions at Mixed Blood, is by no means yet another idealizing take on senior wisdom. Nor is it some dreary admonishment against age discrimination. So if you seek sentimentality or absolution, and need to replicate the seniors in your life as cut-out kewpie dolls rather than real people, then you'll have to look elsewhere.
For starters, Exit Strategy's two main characters never had the happily ever after heterosexual past we're all conditioned to. Moreover, they're confronted with a moral dilemma when asked by a mysterious stranger to assist in a crime. They're both refreshingly flawed and down to earth, not to mention bright. Mae in the way of street smarts and James as an academic. But be warned: they still have feisty libidos and a need for romance and adventure! James's cruising for men in straight bars (yikes!) and Mae's attraction to the stranger, a man named Alex, are far cries from On Golden Pond. And the fact that Exit Strategy is set in the tatty lobby of a run down residential hotel constantly underscores, despite all the laughs, the fallen economic status of the characters, and by extension American seniors in general. James Bakkom's set and Gail Bakkom's costumes reflect this vividly.
Charles Nolte and Shirley Venard utterly soar as James and Mae in some of the juiciest stage chemistry we've seen on any stage recently. It's marvelous to see two of our great veteran actors not only in top form, but taking on material that's so gritty. It's also extraordinary to hear so much dialogue about sex and desire spoken so frankly, wittily, and naturally by seasoned senior actors playing senior characters. After all, our collective American ethos has desexualized older folks and turned them into stereotypes. James has an existential moment when he thinks he may have sucked his last cock. Sure, it's funny but it reflects a cold reality never spoken about. Mae's instinctive animal reaction to Alex is sublimated but visceral. Also very funny, but bravely revealing. And Alex, as played by Semans, understates splendidly a strong alpha male energy typically attributed to younger men.
Beyond sex, Exit Strategy also raises vital questions about criminality in a society where and a time when so many different groups are becoming more systematically marginalized. Consider that James would have been a boy in the 1920s, a Republican-ruled time when the gap between rich and poor was comparably stark. He's come full circle not only personally but historically. Close and Semans have us ponder that when the system has become so stacked toward the filthy rich might it be logical, if not natural, for those who've fallen through the cracks to do what they must, by any means necessary, just to get by? Indeed, this will actually be the most controversial aspect of the play for some. For all its great fun, Exit Strategy is pungently provocative and incisive, even ruthless, in its many observations. A breakthrough in the portrayal of the aged.
One wonders what Henry Fonda, whose cantankerous turn in the film On Golden Pond is legend, would say if he knew that Nolte, who played with him in The Caine Mutiny Court-Martial on Broadway in the 1950s, would think. And as for the late Charlton Heston, Nolte's touring company roommate from an earlier time, we might wonder if he's turning in his grave. How interesting that Nolte has surpassed both Titans in terms of artistic risk, courage, and emotional bravery.
"Well-directed and beautifully performed,
Exit Strategy is a highly enjoyable night at the theater."
Exit Strategy at the Falcon
By Pauline Adamek
Thursday, October 29th, 2009
From LA Arts Beat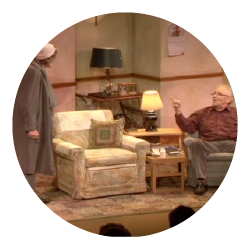 A funny new play about old people, Bill Semans and Roy M. Close's play Exit Strategy is a real treat. In this delightful story, a pair of senior citizens learn you're never too old for an exciting adventure.
The lights come up on a shabby lounge area of an old rooming house. This is the Penley Hotel, an old residence that caters to elderly people on fixed incomes. There's a prominent crucifix on one stained wall, some ratty old furniture, and a few mouse traps discreetly laid along the baseboards.
Pretty soon we meet two long-term residents, James (James Sikking) and Mae (Debra Mooney). He's a former actor and college professor whose dyed hair belies his given age of 82. She's a crabby, silver-haired old bird who, as manager, rules the roost with a firm hand. Witness Mae's opening line to James, a barked demand of "No smoking!" There's the occasional clash over the house rules, especially on where the thermostat should be set, but we see the pair are comfortable co-tenants in this decrepit rooming house. James and Mae also exchange frank banter about typical "old folks" troubles, such as prescription pills and prostate and peeing issues.But when Mae shows James a notice she's just received, stating that their building is scheduled for demolition, you can see their spirits crumple as if all their breath has been kicked out of them. The pair of pensioners find themselves facing imminent eviction and an uncertain future.
Enter Alex (John C. Moskoff), a younger man on a mission (he's around 70) with an intriguing proposition. He asks to rent a room for a few weeks and, towards the end of Act 1, draws the pair into his confidence. It transpires that Alex has come to town to reclaim a valuable item that was stolen from his family years ago. He needs their help in order to get it back, but what he wants to ask of them is not entirely legal….
Debra Mooney is just wonderful as the salty old gal. Sikking is hilarious as James, the has-been actor, never slipping into stereotype with his portrayal of an old queen of the stage. Playing Alex, Moskoff brings a breath of fresh air and upbeat mentality to his role. Against the stale malaise that the other two seem stuck in, his positive outlook is precisely like an essential tonic that shakes them out of their complacency and helps them dream again.
This inspiring drama features three versatile veterans of television and film: marvelous Debra Mooney (The Practice, Everwood, Boston Legal), the charismatic James Sikking (Made of Honor, Hill Street Blues, Doogie Howser, M.D.) and the charming John C. Moskoff (The Wonder Years, Gypsy, Requiem for a Heavyweight).
The trio give superlative performances – their line readings and subtext are simply spot on. Together, they are completely convincing as pensioners who concoct a scheme intended to right an old wrong.
Well-directed and beautifully performed, Exit Strategy is a highly enjoyable night at the theater.
Learn more about Exit Strategy
and support its Broadway production.
Either complete the form to receive a complete prospectus or contact one of our producers below.