About Exit Strategy
Join this adventure to bring this original Minneapolis play to Broadway.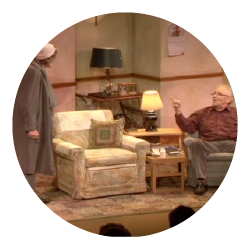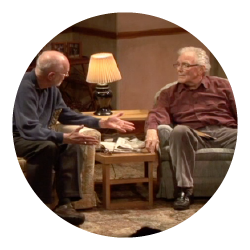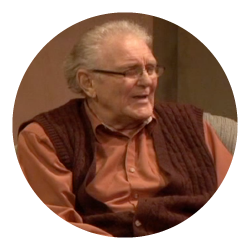 Synopsis of the play:
Exit Strategy is the story of two elderly residents of a down-at-the-heels old rooming house about to be demolished. They live day-to-day on social security and faded dreams. Then a mysterious stranger appears and offers them the adventure of their lives if they can only muster the courage.
The play ran in Minneapolis in 2008 and at the Los Angeles Falcon Theater in 2009, co-produced by Hollywood's Garry Marshall and Michael Laskin. Both productions drew rave reviews and full houses. A reviewer in Minneapolis said it was "roguish fun and a groundbreaking comedy." In Los Angeles, a reviewer called it "a real treat, a delightful story, an inspiring drama, highly enjoyable."
Producer General Partners at
Walking Path Entertainment:
Like the characters in Exit Strategy, your producers are "on the adventure of their lives" in bringing this play to Broadway.
Bill Semans has a distinguished career as a playwright, screenwriter, producer and director. He is co-author of Exit Strategy. Bill also founded the Cricket Theater which was nominated for a Tony Award as the Best Regional Theater. He has produced and staged over 100 productions. He also wrote, directed and co-produced the feature film, Herman USA, and the award winning World War II series, The American Hero. 
Jeff Hohman was co-producer of the feature film, Herman USA, which was released theatrically and on television as well being distributed in more than 30 countries. He is also the co-producer of the World War II documentary series, The American Hero, recipient of eleven major national documentary film awards, including two Telly Awards as Best Documentary Film of the Year.
Chris Spencer retired from Morgan Stanley as a Vice-President and CFP. During her 27 years there, she also taught continuing education in finance and was a newspaper investment columnist. Most recently, she ran Art Workshop International for artists, writers, and playwrights in Assisi, Italy, for 9 years.
Michael Laskin

and

Charles Dennis

talk about the Broadway-bound play, Exit Strategy.

 
Michael Laskin is an actor in film, TV, and stage. Also an author and acting coach with Master Classes (Michael Laskin Studio). He recently starred in the one-man play Altman's Last Stand to rave reviews in LA. Charles Dennis has acted since age 8 and has gone on to not only be in films, but to write plays and novels and win awards for his films. His play, Altman's Last Stand, was recently staged in LA.